Dentures in Boise, ID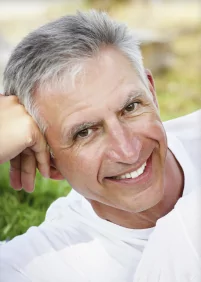 Do you have missing teeth? Are the gaps in your smile causing your embarrassment? Do you find yourself avoiding spending time with anyone but your closest loved ones because of it? Or maybe you are noticing that some of your teeth are getting worn because they are being overused to compensate for your lost teeth. At Blaisdell Family Dentistry, we offer several denture options to repair the gaps in your smile. Often, when patients at our Boise office have damaged or missing teeth, they turn to wearing partial or full dentures as a solution. A denture can be a great option for those who would like a fresh smile! A denture is simply a full arch (row of teeth) replacement that looks and functions like your natural teeth.
Denture Benefits
Functional: Dentures allow you to regain the full functionality of your mouth and smile. The all on 4 procedure is particularly attractive in that it gives you the ability to eat, laugh and smile with confidence as the denture is attached to your mouth via implants.
Beautiful: Dr. Blaisdell offers remarkably natural-looking denture solutions to patients! You can smile with confidence again.
Long Lasting: High quality dentures will last as long as you in many instances. You don't need to worry about getting replacements every few years.
---
THE ALL ON 4 SOLUTION IN BOISE
The all on 4 treatment option is a state of the art denture technology that is permanent and tremendously beneficial for those who choose this option. As the name implies, the all on 4 dentures are held securely by four permanent and extremely stable tooth implants. This means you need not worry about foul-tasting bonding agents used in the attachment of the denture or worry about your dentures accidentally popping out on you.
---
Permanent Dentures on Denture Implants
Permanent dentures on dental implants are a denture apparatus that is secure with dental implants. Traditional full dentures are adhered to the gums with adhesive. Though this is still an option, there can be problems with this type of denture–slipping, clicking, falling out, they can be unsightly and unnatural looking and require removal to be cleaned. Removable dentures can only be used when you have some teeth still remaining so you can have the removable denture apparatus click onto dental crowns placed on each side of the gap.
Why Choose Permanent Dentures on Denture Implants?
Permanent dentures on denture implants are just that. The denture is attached to dental implants. Dental implants are permanent, sturdy, durable and these permanent dentures look just like natural teeth. Permanent dentures have none of the disadvantages of traditional dentures or removable dentures. Because permanent dentures on denture implants are connected to dental implants, there is no mess with adhesive. Permanent dentures on denture implants will not click, slip, or fall out. And permanent dentures on denture implants require no special care. Simply brush and floss as you regularly do and see your dentist for regular check-ups.
---
Same Day Dentures in Boise
Are you missing teeth and are tired of not being able to go out in public? Are you sick of not being able to eat the foods you would like? Are you interested in getting dental implants but concerned about the time it takes to heal and get a full set of teeth?
For those that have missing teeth and need dentures quickly, Blaisdell Family Dentistry is proud to offer immediate dentures, also known as temporary dentures.
What are Immediate Dentures?
An immediate (temporary) denture is a complete denture or partial denture inserted on the same day, immediately following a tooth extraction. Immediate dentures are not supported by dental implants.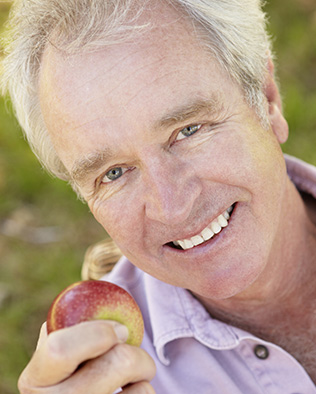 What are the Benefits of Immediate Dentures?
The main benefit of temporary dentures is that they eliminate the possibility of a patient appearing toothless in public following an extraction procedure. An immediate denture also has the following benefits:
Protects tissues following extraction so that they may heal.
Allows patients to speak and chew.
Minimizes sunken, hollow look to the face that missing teeth causes.
You can receive immediate dentures on the same day that you undergo a tooth extraction.
Who is a Candidate for Immediate Dentures?
The ideal candidate for immediate dentures if someone who has had all of their teeth extracted and is looking for a temporary solution as they wait several months for their custom permanent dentures to be designed and fabricated.
---
Schedule a Denture Consultation in Boise, ID
If you would like to learn more about the all on 4 solution or other procedures for your damaged or missing teeth, we urge you to contact our Boise office near Eagle and Meridian ID as soon as possible. Contact Dr. Blaisdell and his exceptional team for your beautiful, custom, and high-quality dentures now!