Implant dentistry has changed the game when it comes to cosmetic and restorative dentistry. Simply put, dental implants are artificial teeth roots. At first, that might not sound very impressive, but implant dentistry at our Boise office solves many common problems and issues associated with traditional restorations like dental bridges and dentures.
What are Dental Implants?
Pretty much a miracle, our satisfied patients say! Dental implants are small metal (titanium) rods placed into your gums that fuse with your jawbone. We place temporary dental crowns on the dental implants while they heal, which typically takes between 3-6 months. A dental implant is simply a "new" tooth root and a "new" tooth"!
What are the dental implant options at Blaisdell Family Dentistry?
Regular titanium dental implants — These are titanium dental implants that are fit to replace your regular sized teeth.
Mini implants — Mini implants are also titanium dental implants, but for smaller spaces. These mini plants are offered here at our Boise dentist office and are just as durable, good-looking and functional as regular titanium dental implants. Mini implants can be the answer when regular titanium dental implants are too big.
Benefits & Advantages of Dental Implants
Tooth implants have many benefits, including: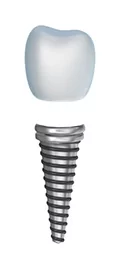 FUNCTION | A tooth implant functions just like your natural tooth root. When your tooth implant is restored with a high-quality crown, you may forget it's not your natural tooth from time to time. A dental implant is durable, sturdy and will probably last your whole lifetime.
DURABLE | Dental implants are amazingly durable. You don't have to worry about chipping or cracking the tooth implant. Dental implants can take the abuse.
APPEARANCE | Dr. Blaisdell offers some of the finest quality tooth implant restorations available. They look incredibly natural and most may never even suspect they are not your real teeth. You may enjoy the full, complete feeling in your mouth you had when you had a complete smile.
COMFORT | A dental implant is comfortable and requires no special care. Simply brush and floss as you regularly would and regularly see your dentist.
CONTINUITY | We provide all phases of the titanium dental implants procedure right here in our office in Boise. From consultation, diagnosis, the procedure, and the aftercare, we are here for you in your dental implants procedure so you can feel comfortable and familiar learning what are dental implants with our skilled doctors and caring, well-trained team.
TECHNOLOGY | Cone Beam 3D Imaging technology helps us to design your dental implant procedure from the beginning and all through the process. We are able to place the dental implants or mini implants with accuracy and answer any questions of what are dental implants.
SEDATION | — We offer a couple of dental sedation methods: Laughing gas and oral conscious sedation to help you feel comfortable and relaxed during your titanium dental implants procedure.
What are the differences in the dentures or implants options?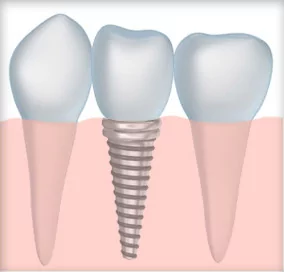 Tooth implants can also be used for implant supported dentures. Implant supported dentures are the best of both treatments–dentures and tooth implants. Implant supported dentures use tooth implants to give stability to your smile and the implant supported dentures are then attached to the dental implant placed on each side of the gap in your smile.
Implant supported dentures look completely natural and can function just like natural teeth, so you can eat the foods you like and smile and laugh as usual.
Traditional dentures adhere to the gums with adhesive. This can be messy and can also be a little tricky. If the adhesive doesn't adhere properly, your dentures or implants can click, slip or even fall out! Dentures secured onto dental implants are in there for good. No adhesive, no clicking, no slipping, and no falling out.
Traditional dentures require that all your teeth on the top or the bottom be extracted so the denture apparatus can be used properly. With implant supported dentures, not only can you keep some of your teeth, but the dental implants are also "new" teeth that are secure and will hold the dentures very securely.
Traditional dentures can be uncomfortable and often need to be resized because your gums recede and the dentures no longer fit properly. Dental implants give you "new" teeth and "new" tooth roots so you have less chance of your gums receding. Not only does this mean your denture apparatus will fit properly, with your face will not get that haggard look that can often happen when you lose your teeth and tooth roots. With dental implant supported dentures, your face can keep its symmetrical, natural appearance.
Are There Other Procedures Besides Dentures or Implants?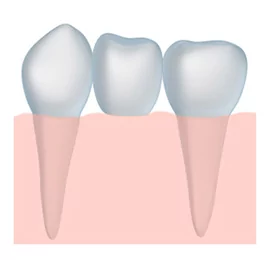 Yes there are. Once usch is what is called a dental bridge. A dental bridge can be used if you have a few teeth missing side by side. A dental bridge actually bridges over the gap in your smile. If you have several teeth missing, an excellent treatment is to have dental implants placed on each side of the gap and then have a dental bridge fill the gap. A dental bridge looks, feels, and functions just like your natural teeth because we custom design the dental crowns and bridge to your smile. We also color match the dental implants and the dental bridge so they match your natural tooth color.
How to Choose a Tooth Implant Dentist:
Does the dental implant dentist have a lot of experience doing this procedure? At Blaisdell Family Practice, both doctors Blaisdell have performed this dental implant procedure many, many times for many, many satisfied patients. We both place AND restore dental implants.
Does the dental implant dentist have a team you can count on and trust? Our well-trained, caring team treat all our patients like they are dear friends. We want you to feel completely comfortable with a dental implant dentist during your visits with us.
What kind of dental technology does the dental implant dentist use? We use state-of-the-art Cone Beam dental technology. With this dental technology, we are able to coordinate and plan each dental implant and then place those implants with precision and skill. Having modern dental technology and up-to-date training is something we are proud to offer to our patients.
Will you have to go to several dentists to get this procedure done? With some dental implants dentists, you will be sent to an oral surgeon for some of the phases of the procedure. Our dental implant dentist team performs every phase of the dental implant procedure right here. From the diagnosis phase to dental implant placement and finally, restoration, you can feel comfortable with seeing the same happy, helpful, skilled team and the dental implant dentist.
Does the dental implant dentist place mini dental implants, traditional implants and same day dentures teeth in a day? Depending on your situation, you may need regular dental implants, a mini tooth implant or a combination of both. We offer and place both types of dental implants.
Does the dental implant dentist offer dental sedation? At our office, to keep you comfortable, along with our up-to-date dental technology, we offer oral conscious sedation and laughing gas sedation dentistry.
Am I a Candidate for Implant Dentistry?
Most people are candidates for implant dentistry to receive a tooth replacement or teeth implants. The criteria to see if you are a candidate for implant dentistry for tooth replacement is:
If you have a tooth or teeth missing.
You are in good general health and in good oral health, as well. While the implant dentistry procedure for tooth replacement or teeth implants isn't usually remarkably complicated, it is a surgical procedure, so we want our patients who receive this treatment in optimum health.
You have enough bone in your jaw to secure the tooth implant and have it be sturdy.
You need to be willing to commit to the best practices to make sure you have continued good general and oral health by brushing and flossing regularly and have regular check ups with your dentist.
If you are not a smoker or are willing to quit.
If you are suffering from severe or uncontrolled chronic disorders — such as diabetes or heart disease, we will partner with you to see if implant dentistry is a possibility.
If you have had radiation therapy to the head/neck area>, we can evaluate you to see if implant dentistry will be possible.
---
Dental Implants FAQs
---
Schedule a Tooth Implant Consultation in Boise!
Whether you have questions about tooth implants or you'd like to schedule a consultation with Dr. Lynn Blaisdell or Dr. Craig Blaisdell, feel free to call, text, or contact our Boise dentist office using the form on this page. We have helped advise hundreds of patients around the Eagle, Meridian, and Nampa, ID area on whether or not implant dentistry is right for them and we look forward to helping you.