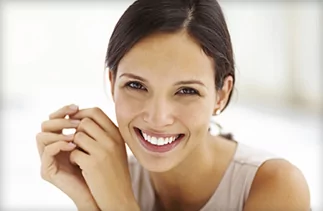 Do you have missing teeth and are considering false teeth to give you back your smile? Did you know there are now several different false teeth options? There are the traditional false teeth in the form of dentures that replace your full arch–on top or bottom. (An arch is the full set of teeth either on the top of your mouth or the bottom.). And those are still a viable option for many individuals. But there is a far more permanent false teeth option we would like to introduce you to. This false teeth option is implant dentures placed on dental implants.
What are Implant Dentures placed on Dental Implants?
Dental implants are a marvelous procedure that can give you "new" teeth. This process at our Boise ID dentist office is quite simple and quite miraculous. A dental implant is a small titanium rod that is placed into your gums and jawbone that, when healed (usually 3-6 months) will give you a "new" tooth root. A dental implant is a false teeth option that replaces your tooth root. Once the dental implant heals, we place a permanent customized dental crown on top of the dental implant. Dental implant + dental crown = new tooth.
What are the advantages of implant dentures?
Implant dentures near Eagle and Meridian ID are very sturdy because they are secured to dental implants, which are permanent and durable.
Implant dentures don't look like the proverbial false teeth. They look like your natural teeth as they are color matched to your natural teeth. Implant dentures are also custom made so they look like they fit into your smile.
Implant dentures require far less care than traditional dentures. They don't need adhesive to adhere them to your gums. They are attached to dental implants and require no adhesive.
Implant dentures feel just like your natural teeth. Traditional false teeth can sometimes become ill fitting and uncomfortable.
Implant dentures function more like natural teeth. Traditional false teeth dentures can click, slip or even fall out. You must limit your food choices with traditional false teeth, as well. Implant dentures in Boise ID are permanent dentures that stay firmly in place, so rest assured they won't fall out and you can eat the foods you like.